26''&32 ''ErgoMate Deluxe with magnetic tips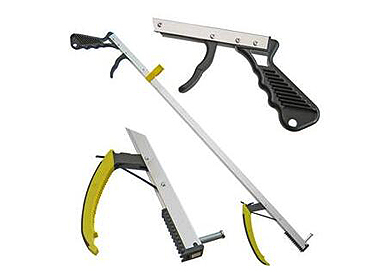 ABOUT THE PRODUCTS :
A LIGHTWEIGHT ALUMINUM HAND REACHER TOOL with an ergonomic trigger handle is slip resistant and contoured to fit your hand comfortably.
CONVENIENT MAGNET GRABBER TIP adds functionality to pick up light metal objects from the handle that have fallen in tight to reach places or are high above.
SIMPLE TO USE 2.5 INCH SERRATED JAW OPENING is ideal for reaching any shape of object and interlocking tips give you a secure and sturdy grip.
EXTEND YOUR REACH UP TO 26 INCHES making those high up and hard to reach objects easy to grab and place back.
Product description
Your Reacher Grabber Tool Will Be An Extension Of Your Hand When You Need It Most
REACHER GRABBER TOOL BENEFITS:
Great for those with reduced hand strength
Significantly increases your reach
Great for home, work, shop, or garage use
Eliminates excessive bending and reaching
REACHER GRABBER TOOL FEATURES:
Magnet located on the grabber tools handle for picking up metal objects
Rubber cushion tips to enhance grip
Ergonomic lightweight design
Easy to use trigger
Serrated opening jaw
Non slip contoured comfort handle
MAGNETIC REACHER GRABBER TOOL SPECIFICATIONS:
Claw opening is 2.5 inches
4.7 by 0.7 by 26 inches
Weighs 5.6 ounces
Color: Black